OrionStar Restaurant Solutions introduces Restaurant Automation 3.0, a solution that combines intelligent robots with self-ordering and self-checkout devices, KDS, table trackers, and robot call buttons. These integrated solutions seamlessly integrate into existing restaurant workflows, enhancing operational efficiency and improving the overall customer experience.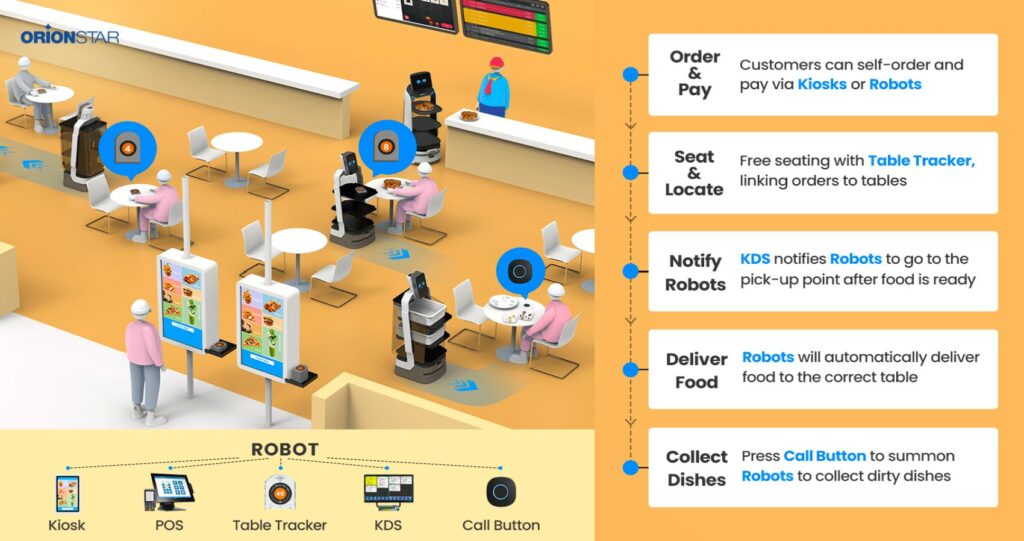 The Order and Pay Solution integrates with restaurant POS systems, enabling customers to directly order and pay through the robot. It offers three convenient payment methods: third-party payment, credit cards, or server call. With voice interaction and touchscreen operation, the user experience is further enhanced. The mobile design of the kiosk includes voice command interaction, providing customers with a user-friendly and convenient ordering process.
The Smart Positioning Solution integrates with the restaurant's POS system, Table Tracker, and delivery robots. This allows customers to select seats and associate their orders with specific tables. The table tracker assists the robots in identifying the correct table for meal delivery, ensuring accurate and efficient service.
The Meal Delivery Solution utilizes delivery robots to transport dishes and beverages from the kitchen to the table. When a meal is prepared, the KDS alerts the robot to pick up the order, and the robot autonomously delivers it to the designated table. To ensure the stability and efficiency of drink delivery, cup holders are provided. Up to 30 robots can collaborate seamlessly to maximize delivery efficiency, revolutionizing the speed and accuracy of food service.
The Smart Summon Solution empowers customers to order additional food by summoning a robot to their table with the push of a button. Additionally, the robot can transport dirty dishes back to the dishwashing area, improving working conditions for restaurant staff, particularly in aging societies. In some fast-food establishments, roaming robots collect dirty dishes, making the work environment more humane.
OrionStar's robot solutions have already transformed the dining experience at a popular American restaurant. With approximately 500 daily delivery tasks and serving around 200 customers, the restaurant required an efficient solution to ensure timely and accurate food delivery. By implementing two delivery robots, the restaurant achieved 400 daily deliveries spanning 15 kilometers and automated 80% of delivery tasks. This freed the staff from repetitive work, allowing them to focus on providing exceptional table service. As a result, there has been a significant increase in tips, with some servers earning over $300 per day.
The precision and accuracy of the robots have facilitated quick and accurate delivery, even during busy periods, leading to smooth and efficient operation. Overall, OrionStar's robot solution provides for a more pleasant dining experience for both customers and staff alike.